I got the idea to create my kids' Valentines Cards that they hand out to their friends after reading a Blog post last year on SLR Lounge.
I'm certainly not the only Mom to make their kids' Valentines. I just love seeing all the creativity out there of parents and their children, that comes to life on occasions such as this. As photography is my thing, that is of course how I've chosen to express my creatively, and help my boys give away something personal. I created these this week at my Home Studio in the Foothills, near Millarville.
It was a whole lot of work, more than I thought it would be at first. I had told myself to get them done in plenty of time, so that I could have them printed at a Lab, rather than at home. But of course, as is the case with most personal projects, it got left to the last minute, and I ended up having to print them at home. Which was a shame, as professional printing is much better quality, and easier in the long run. After fighting with paper jams, running out of ink, and staying up late, I hope maybe next year I'll be more organized:)
I wanted the photos to be a good reflection of who the kids are, making them really personal, as well as to coordinate with the small gifts we were including with the Valentines.
Unfortunately, David was a bit under the weather all week, and wasn't in the mood to cooperate. Photographically speaking, this shot could have been better, but it's the best we could manage, last minute.
Here is what I ended up with for David's Valentine. He's a Lover of Dinosaurs, and of course, wanted to share that love with his friends. We included small dinosaur toys as gifts:)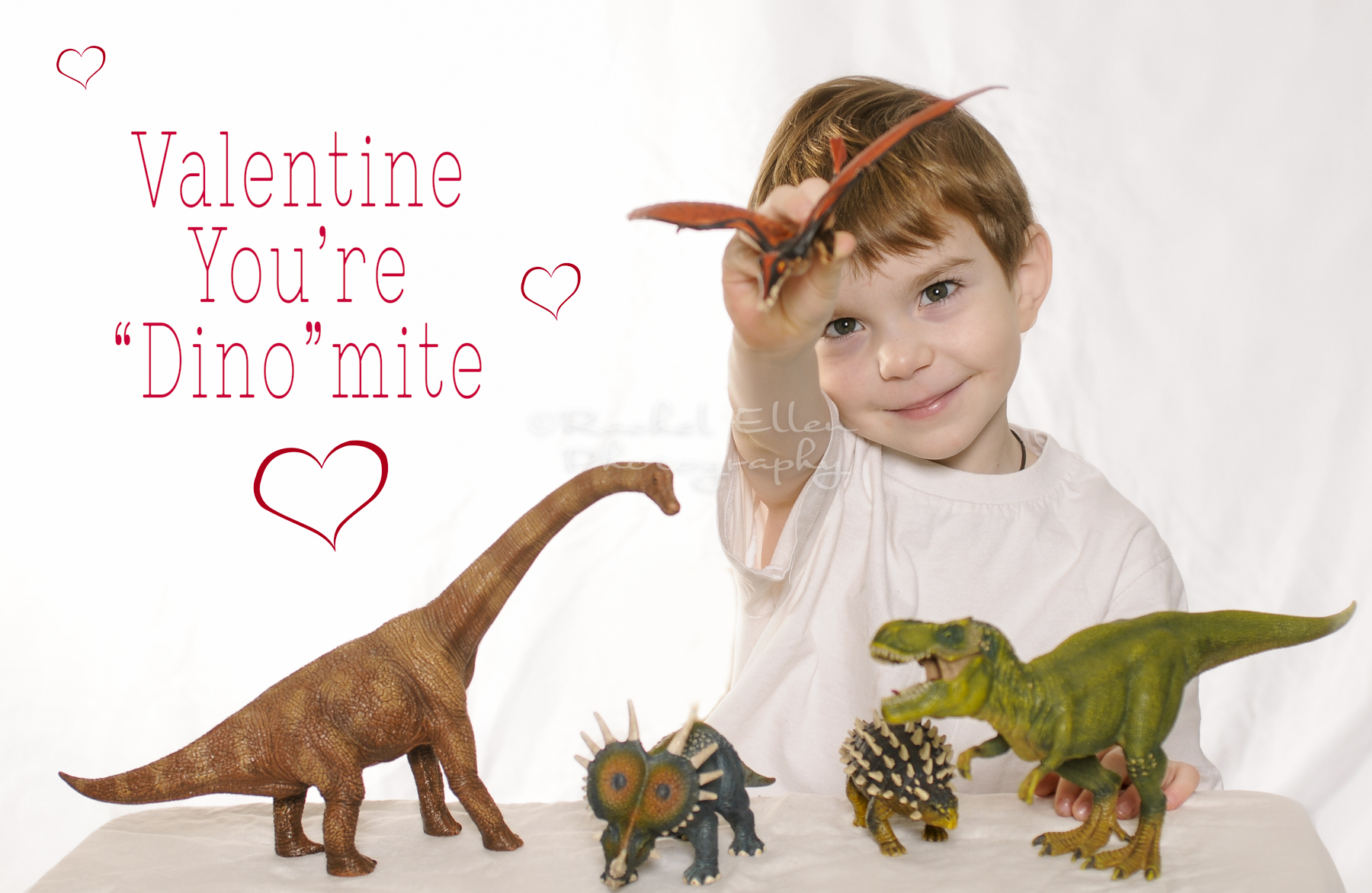 I was organized on this count- I printed the name stickers early, and had the kids sign all their Valentines early, as trying to get kids to sit and write their name 20 times in one evening is way too much pressure (something I learned last year;) I was really proud of David, who's writing is still a work in progress. But he signed all of his Valentines, and it was excellent writing practice for him.
Here is the photo I did for Brodie last night. It was tricky making the hearts from glow sticks. We had to use a lot of tape, which then hard to be edited in the post-processing. Getting the exposure right was tricky too, to properly expose Brodie, and get the effect of the glow sticks glowing as well. But, for a bit of last minute creativity , I think it turned out pretty well. We included glow sticks as the gift with his Valentines Cards.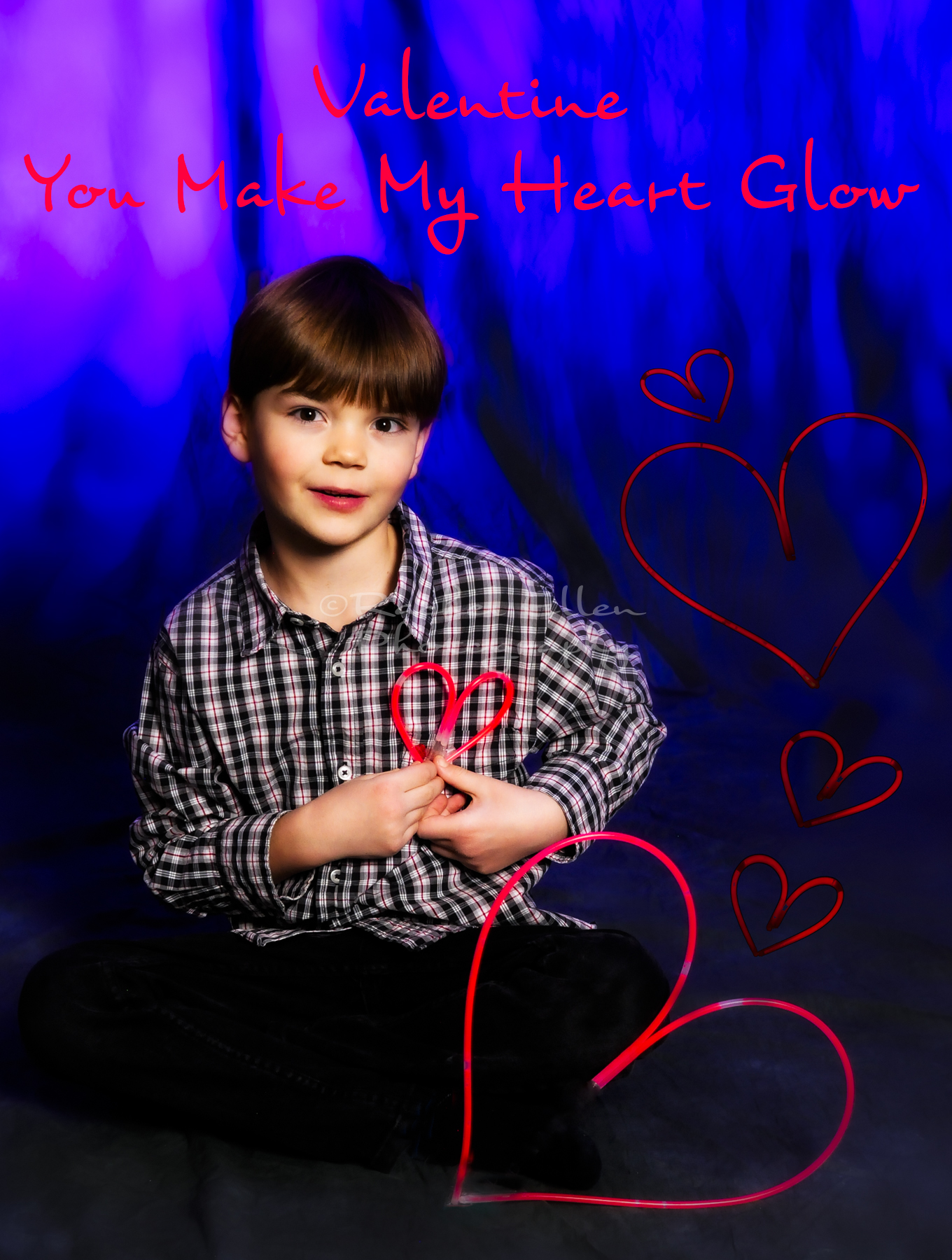 I really love how this one turned out from last years' Valentine's Day.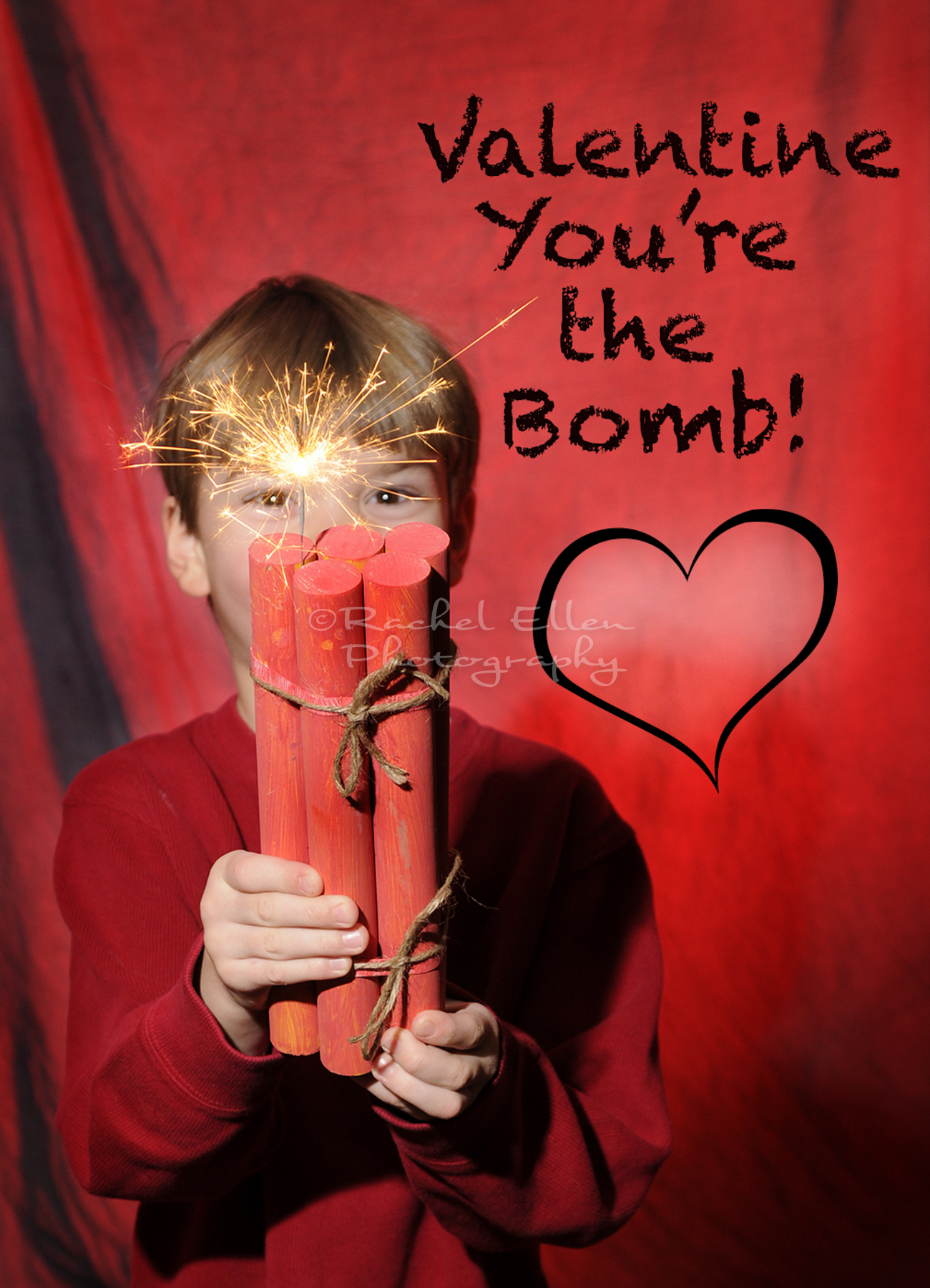 And I already had a super cool idea for Next years' Valentines photo and gifts;)
Wishing everyone a day filled with love, Happy Valentine's Day.