I haven't blogged in a good long while, so it's high time I shared some photos and stories of our recent escapades. We are raising eight puppies, and this new adventure has been the reason for my recent blogging hiatus.
As I prepare this blog, the puppies have finally settled down for their nap, after finishing a very rowdy play fighting, growling, and destroying every shoe in our porch session.
Born on August 2 to their Black Lab parents Max and Raven, it's hard to believe these puppies are six weeks old already, and will start going to their forever homes soon. And although my husband and I will be somewhat relieved to see them go, we are so glad that our family, especially our boys, have had this opportunity to see puppies be born and Watch them Grow.
Raven had such a beautiful litter as her first litter. She was an amazing mom in their first weeks of life, taking wonderful care of them, keeping them clean and nursing them.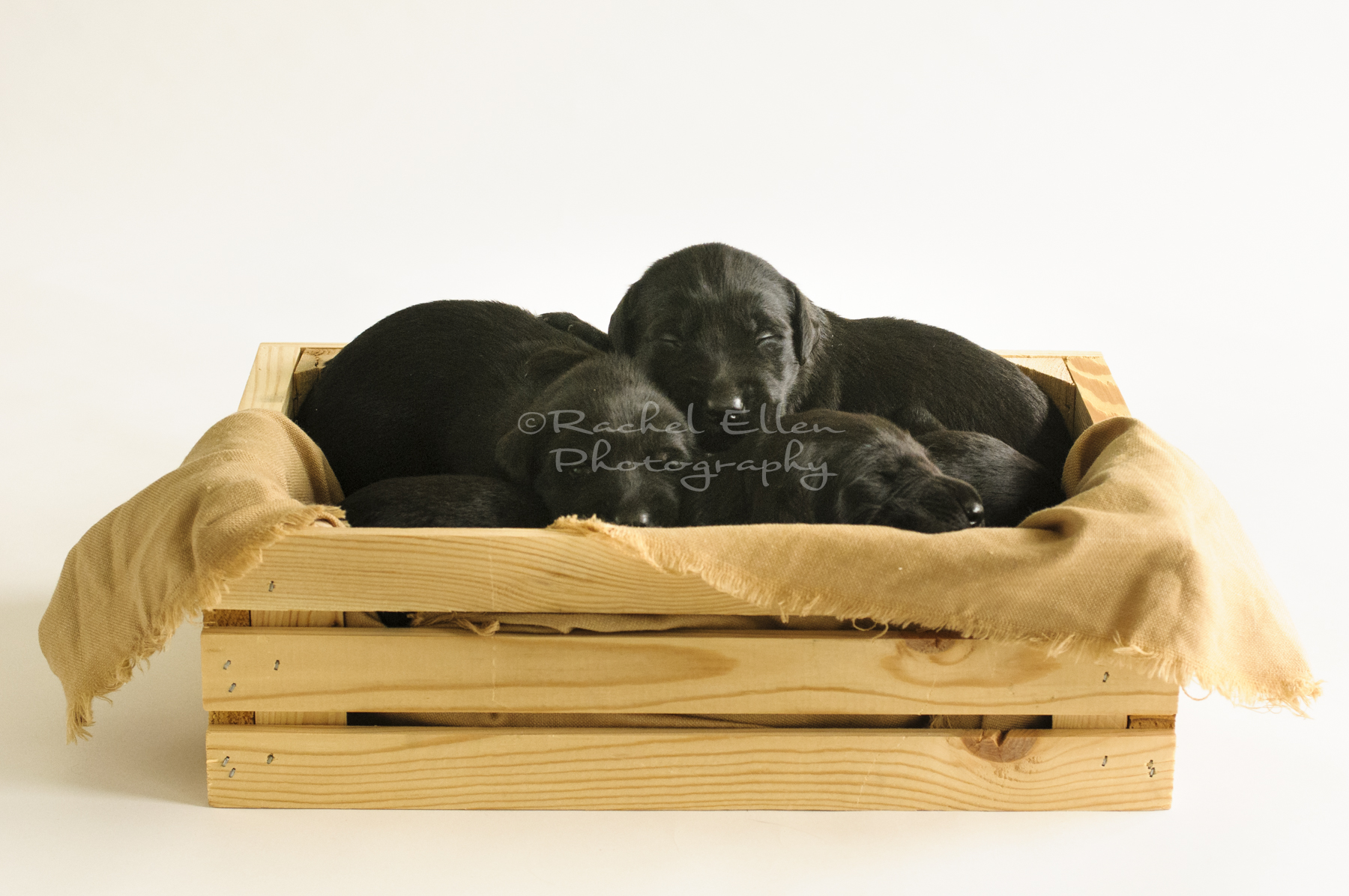 By three weeks old these little pups were already becoming quite a handful. Already at three weeks Raven was having a hard time keeping up with nursing and we began to feed them solid food.
When they were three weeks old I posted this photo on Kijiji, and the response was swift. Our email went crazy, and our phone rang off the hook! They all had forever homes to go to within one day.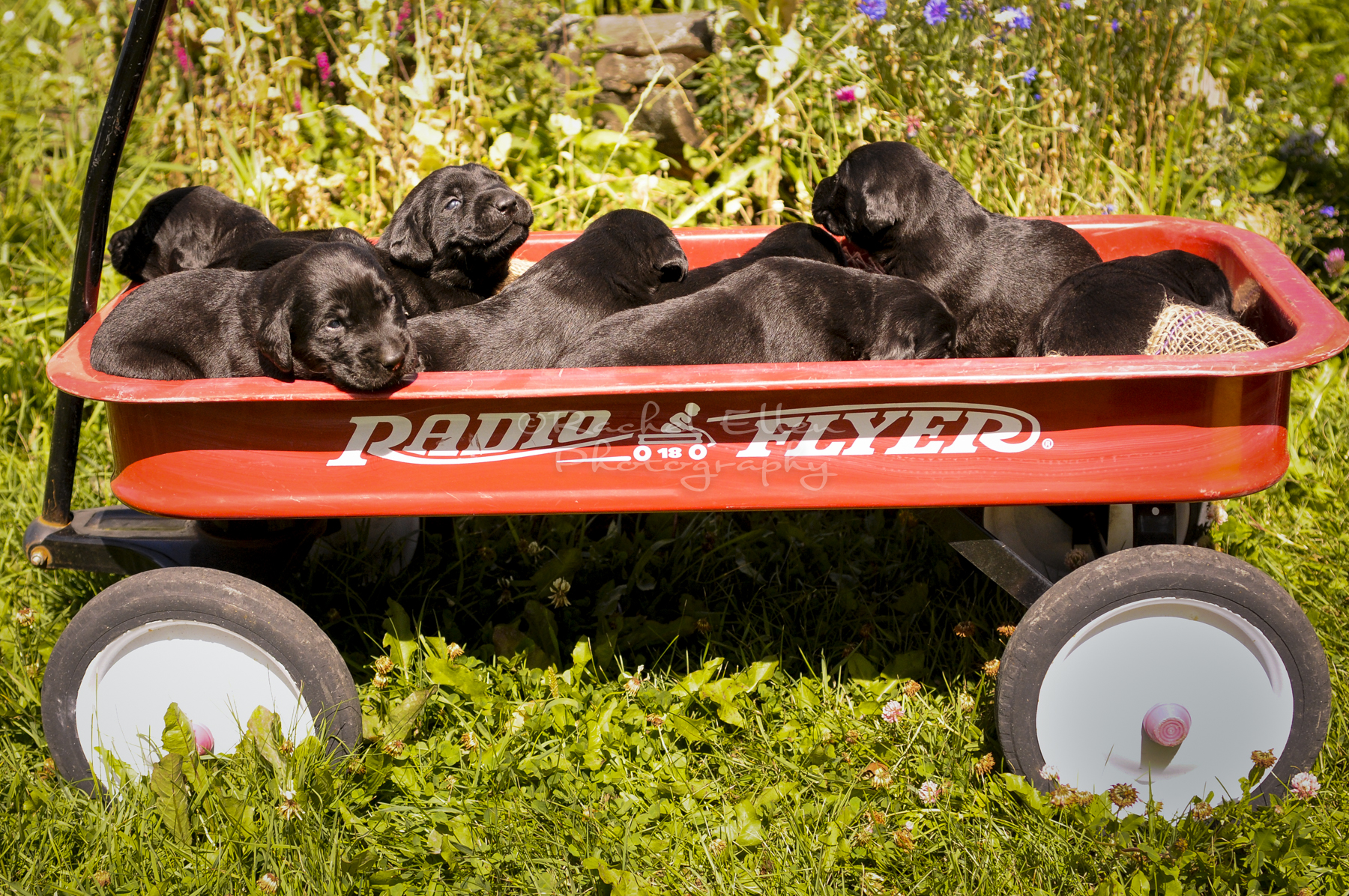 The past three weeks with these little pups has been quite busy, to say the least. They require at least five feedings per day, and Josh and I spend at least two hours a day in the feeding, cleaning up, and moving them from indoors to outdoors, and back again at night.
Like all children they love to come outside to play. They are hyper and cooped up on the rainy days. At least we no longer have to carry each one in our arms when it is time to go outside. They happily follow us out to their kennel.
Brodie and David have had a great time with the pups. Our kids have had many awesome related experiences including Brodie learning carpentry, by helping to build Raven's doghouse, Brodie writing a story for our Millarville Fair of his experiences with the puppies, and winning first place for his story, and bringing the puppies to school for show and tell.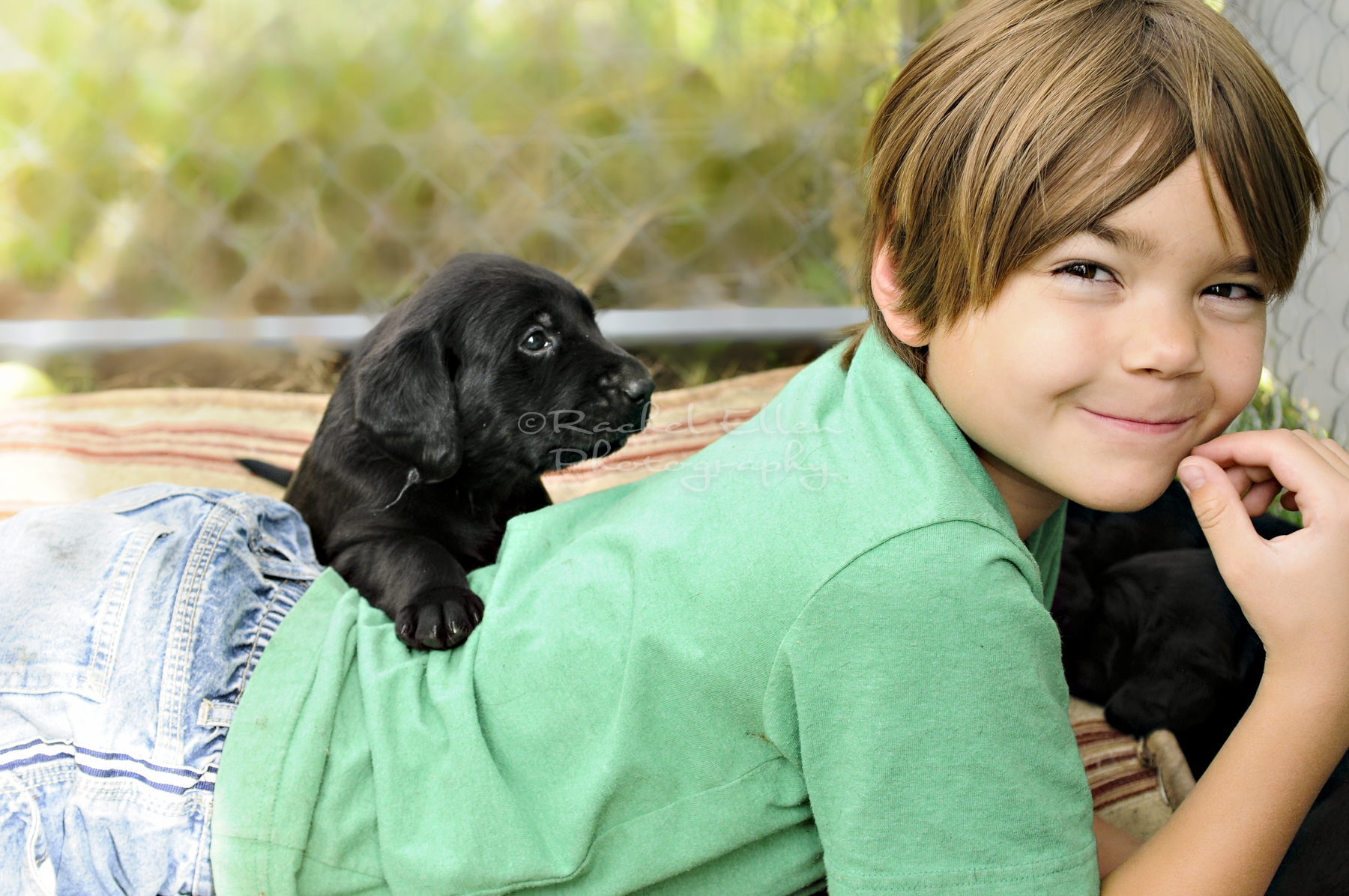 The professional photographer in me wanted to take all kinds of fabulous perfect portraits of these puppies, but alas I think lifestyle portraits will the best I can do between the five feedings a day and hours of cleanup. Not to mention the days of bad weather like today, when the puppies are kept indoors.
Between making them scrambled eggs and milk, tins of dog food, and the whole lot of them rushing your feet, and chewing your shoes and pants, as you attempt to feed them, they can be difficult little subjects.
They are either dirty from eating, running around like maniacs, or a black mass when in their sleep pile.
When the weather clears, I'll see what else I can accomplish for puppy portraits. Until then I hope all you puppy lovers out there will enjoy these.